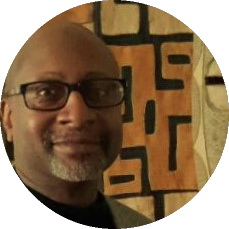 Speaking Opportunities. If you are interested in Ezrah Aharone speaking at your next event or Forum, we would like to hear from you!
Professor, Author, and Experience in Africa
Born and raised in New Jersey, Ezrah Aharone is a 1980 graduate of Hampton University. He is a professor of political science at Delaware State University (DSU), a scholar of sovereign studies, and author of 3 political books whose syndicated op‐eds and opinion pieces have appeared worldwide in over 200 publications, including The New York Times.
Aharone's philosophy and worldview encapsulates 35 years of international experience living and working in West Africa, where he is also a political and business consultant with relationships that span from presidents to everyday people.
Originality of Concepts and Approach to Speaking
As an author and public intellectual, Aharone's originality of thought has been paralleled to Carter G. Woodson. Unlike speakers who are unrelatable to today's youth or who recite partisan scripts for applause, Aharone advocates what he calls "a new and necessary reconceptualization of freedom and democracy that lies beyond the boundaries of two‐party politics."
His solution‐oriented insights are known to deconstruct complex issues in ways that make America and the world easier to understand, while distinguishing the human failings of Black America from systemic flaws of Americanization.
As such, his 3‐pronged approach to public speaking comprises a global range and balance of political, economic, cultural, and spiritual topics, aimed to:
1. Address both the sources and solutions to structural inequities and injustices of race
2. Consign more "problem‐solving accountability" to Black institutions
3. Advance the worldwide interests and intellectual culture of Black/African people in the process
Next Steps...
Contact Ezrah: Send your questions and comments; include your name, your interest, a short message and the best way for Ezrah to get in touch.